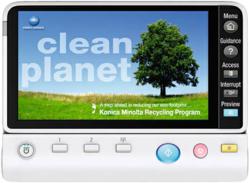 I simply enjoy this business!!! Last week KonicaMinolta submitted this Press Release:
Konica Minolta Business Solutions U.S.A., Inc. (Konica Minolta) today announces the launch of the Corporate Announcements application. Targeting organizations of all sizes and in any business sector, this new application provides administrators the ability to configure corporate announcements or
advertisements to display directly on Konica Minolta's award-winning line of bizhub® multifunctional products (MFPs).
With the new PC-based Corporate Announcements application, Konica Minolta provides the tools necessary to help users broadcast messages via bizhub MFPs across an organization's network. Administrators can distribute messages to specific audiences, or display messages on specific bizhub MFPs. Announcements are easily viewed and managed via the control panel of any networked bizhub MFP and can run in a continuous loop as a screensaver once the MFP
has been inactive for a set period of time. Safety information, company policies, corporate philosophy and marketing messages can now be viewed and accessed at one of the most frequently visited items in the workplace - the MFP. If you'd like to read the full press release here's the link
Konica Minolta Corporate Announcements App Simplifies Internal Communications
.
One of the first questions that came to mind is if the message could also be displayed as a video, if so let's add some speakers to the bizhubs too! But the more I thought about the app the more I thought about how this app could bring additional revenues to the Direct Branch, the Dealer or even the owner of the Bizhub.
Ponder this, the customer wants a better price, you can't seem to come to terms. In a decent size office, would they object to get a lower price in lieu of having an ad placed on the screen for a location lunch place, maybe an ad for cell phones, insurance. Could this possibly open up a new revenue stream, meaning we give the customer $500 discount but sell the advertising for $1,000.
Another P4P'er mentioned this;
"Mr. Customer, how would you like to lower your copy bill next month by $100? All you have to do is allow ABC Bank's website to be displayed on your copier for the next 4 weeks. Just follow these three easy steps and then take a picture of the display on your copier and email it to us."
What about industry specific advertising. A mortgage company advertising in a Real Estate office or a teacher's credit union web page displayed on copiers throughout the local school district.
Too me, as an entrepreneur this is a feature that I could sell the heck out of, better yet I can build a marketing program around this app that will me to add tremendous value for increased profits, and may enable me to create a new profit center.
One more note, apps especially apps on copiers can be the next big thing in the office, all we need is some creative thinking and I believe the copier/MFP of yesterday can be transformed into a communication device that will live on for many more years! :)
Kudos to KonicaMinolta, I'm looking forward to seeing this app in action!!
-=Good Selling=-