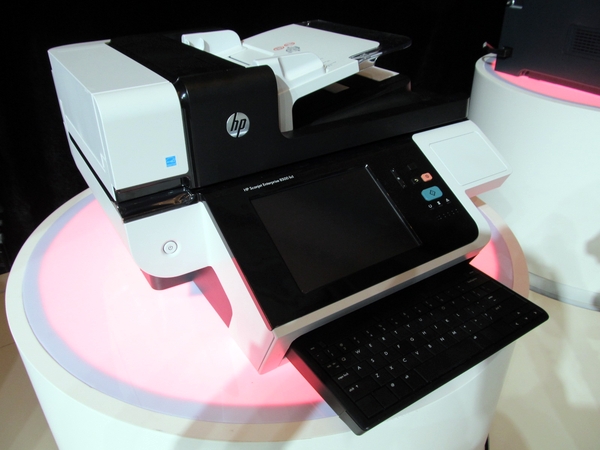 A few days ago I was flipping through the MFP Report and there was an interesting article on an HP device listed as a "Document Capture Workstation".
The MFP Report
states that the HP Scanjet Enterprise 8500 fn1 was previewed at Innovation Impact in Shanghai a few months ago.
I'm all over this technology! Many years ago I mentioned that Hi Speed Network Scanners Stations are needed in the office, but you'd have to spice them up with some additional features like:
Scan2email
Scan2folder
Scan2ftp
Scan2sharepoint
Ability to run third party software such as ecopy, digidoc flow, NSI, etc....
Network Fax
Cloud Fax
Scan2Print
Scan2fax
The Claim to fame for the HP Scanjet Enterprise 8500 fn1 is the speed! a BLAZING 60 pages per minute in Simplex and 120 pages per minute in duplex. Street price is reported to be about $3,500.
We can do this, and improve on the HP Scanjet Enterprise 8500 fn1 with the items I mentioned above. To me, it's a simple thing to do, cut the dam top off of one our 50 page per minute print devices and presto chango you have a 'Document Capture Workstation"! I wish it was that easy, but we do have the technology in place to make this happen. Just think Mortgage, Banks, Title, Finance, the list could be endless for the markets that would beneift from a device like this.
A few days ago I did a search on network scanners and was extremely disappointed to not find any that had high speed with scan2email or scan2folder. The time is right companies want to reduce paper and reduce their carbon footprint. I also believe the time is right to start charging for scans. If we had a device like this, you could bundle 50,000 or 100,000 scans with the device and then charge for additional scans. This is not something that is new with high end document scanners.
I had a talk with someone on this the other day, and he stated "Well scanning documents actually increases print volumes". I stated "yes, I agree however that was 7 to 8 years ago when you heard that, times have changed, workflows have changed. I see print and copy volumes declining in most of my accounts now", he had nothing to say.
Our industry has to be innovative and come out with new products, new service/revenue models. The printed page will continue to decline (yes, even MPS will decline too) and as a service/solution provider we need products that will enhance our business solutions!
-=Good Selling=-